"From here I saw what happened and I cried" 1995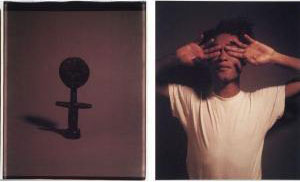 from the series "And 22 Million Very Tired and Angry People" (l)
and "See No Evil
"
(r), 1991
Carrie Mae Weems: To Be Continued 1991
Carrie Mae Weems, Untitled #2451, 1990
Carrie Mae Weems
The Apple of Adam's Eye, 1993
Carrie Mae Weems (born 1953) is an award winning photographer and artist. Her photographs, films, and videos have been displayed in over 50 exhibitions in the U
nited States and abroad and focus on serious issues that face African Americans today, such as racism, gender relations, politics, and personal identity. She has said, "Let me say that my primary concern in art, as in politics, is with the status and place of Afro-Americans in our country." Weems was born in Portland, Oregon in 1953 the second of seven children to Myrlie and Carrie Weems. After high school, she moved to San Francisco to study modern dance. She decided to continue her arts schooling and attended the California Institute of the Arts, Valencia. She graduated at the age of twenty-eight with her BA. She received her MFA from the University of California, San Diego. Weems also participated in the graduate program in folklore at the University of California, Berkeley.
Source: http://blueprintnewark.org/?p=80